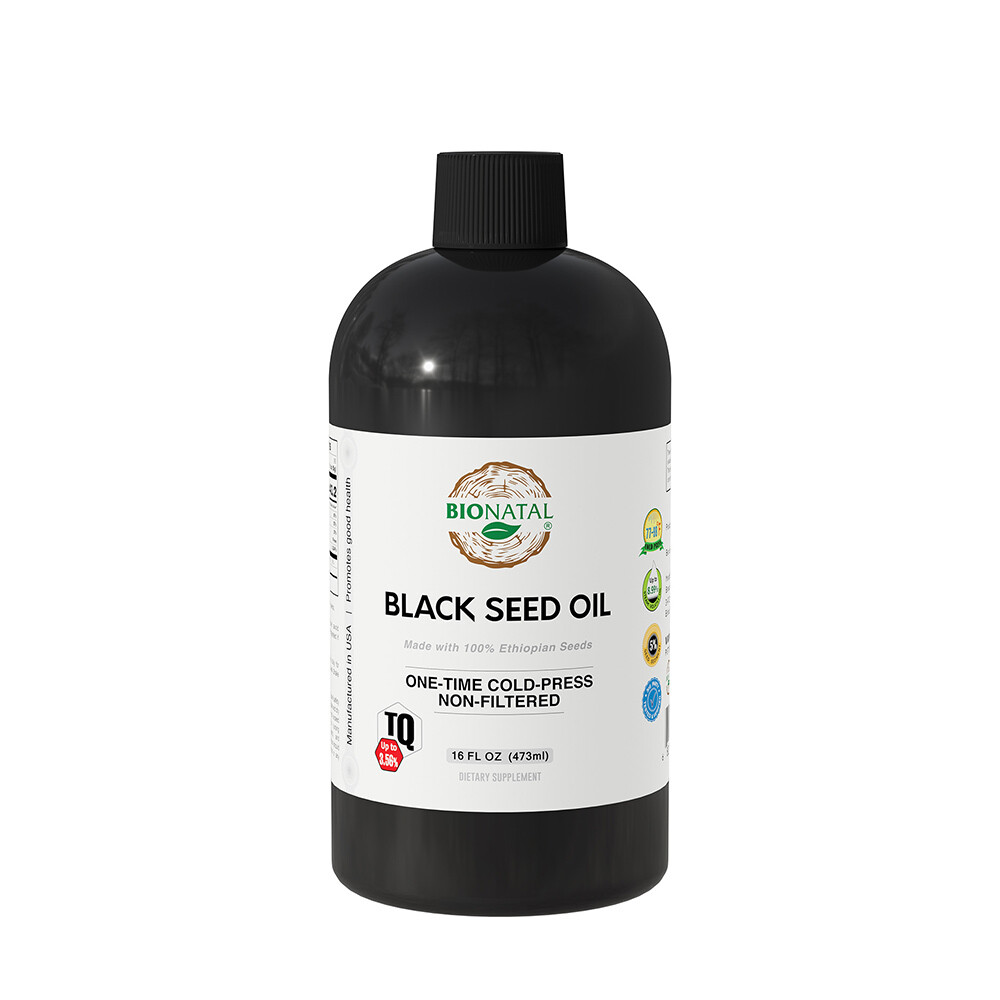 Ethiopian Black Seed Oil 16oz (PET)
SKU 003
Product Details
Officially! The highest level of Thymoquinone (TQ) - up to 4.34% (*currently old labels shows up to 3.56%)

What you need: Are you tired of monotonous and ordinary health products? Have you ever wondered how important it is to have a high-quality black seeds oil and be in your best shape? Black seed oil has amazing antioxidant properties that work for your body, hair, and skin – now, it is time for you to take care of your body.

Excellent Quality: our products are made only by using the most potent seeds from the unique Ethiopian regions. Our company, BioNatal, is the only company in the U.S. who is offering this high-quality product from one of the best certified and sustainable growers from Ethiopia. We are proud to say that our products have been evaluated and meet the Non-GMO Project`s Standard. Because we care about you, and what you consume: we only use Ethiopian seeds; 99% black cumin; fresh crop; coldest pressed method possible; one-time press.
Why our black seed oil: For so many years, using black seed oil has shown to support the immune system and helps the body's overall wellbeing. You should give our product a chance and gratify your body with the best black seed oil in the market. Containing a hefty dose of omegas, amino acids, and antioxidants, you will fall in love with our product and feel ready to take on the world.
Ideal for you: our black seed oil comes in a 16 OZ plastic bottle, just perfect for your daily use. Take care of your body with a proven method – either you are facing health issues, or you are seeking for the magical beauty benefits of our product.
Excellent gift idea: never miss a chance to show your family or friends how much you care about them and give them a bottle of our blessed elixir.
Description
When it comes to our customers' satisfaction, we have one rule: settle for nothing but the best. That's why we work only with quality products that are guaranteed to deliver to our high expectations and meet all your high standards.
Why should you order this product?
Because health is your most valuable asset, and you should take care of it. Enjoy the benefits of our black seed oil and take care of your body and soul.
Some of the great unique features of this product:
BioNatal black seed oil is the most potent oil on the market with Thymoquinone (TQ) level 4.34% (*currently old labels shows up to 3.56%);
The pureness of the black cumin is 99% (Sortex cleaned method);
Coldest pressed way possible with a temperature of 77-87F;
One time press;
Fresh crop – always fresh
Seeds from a certified sustainable grower in Ethiopia;
ADD TO CART NOW, and you'll fall in love instantly with our pure black seed oil! Improve your body and state of mind with a great health product!
This bottle of black seed oil comes in a PETE bottle.

Packing & shipping details:
BioNatal standard 16oz bottle is made of high quality food grade PETE (plastic). This PETE is safe and not worse than glass, just keep it in dark place with room temperature.
We ship PETE bottles in the FedEx Express Medium Box (USPS Priority Mail Medium Box) with additional protection inside: carton, bubble film and foamed film.
Delivery time is 2-3 days by free FedEx Express
OR 2-3 days by USPS Priority Mail in case of shipping for PO BOX holder.
Save this product for later